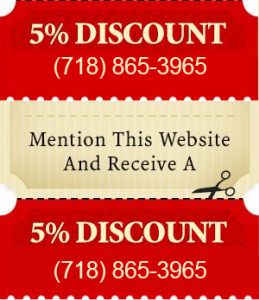 Finding great Brooklyn boiler service companies is not an easy task. Some boiler service companies are not experienced in all phases of the job and will accept a job without being able to get it done right. With us, that's not the case. Our over 20 years of experience has proven that our technicians know exactly what they are doing and they get the job done correctly the first time.
We all know how inconvenient it can be when your heater shuts down, but how about when your heating shuts down? Having a heating problem in the middle of winter can be a very dangerous situation and you need a Brooklyn boiler repair that can be there at a moment's notice without any hesitation. Our service does just that. We are available for any HVAC service and our technicians are fully licensed, insured and factory certified to handle any issue that you might be having.
If you're worried that you might be having an issue with your boiler or heating unit and that you might need someone to come and see it this winter, you should not wait until it is too late, call the best Brooklyn boiler repair company around! Regardless of the season, we can come and check your boiler, clean or maintain it and make sure that everything is working properly.
24/7 Emergency Plumber Service
If your boiler does not work correctly and you have one super cold night without heat, it may be enough to burst your pipes and cause major damage in your home and you should not leave it up to chance.
Your burner should be checked and maintained annually to make sure that it is working up to its best performance. If you have waited a while without having your boiler checked, you should do so immediately. If boilers are not properly maintained they could spew out black smoke and soot, creating a hazardous environment for you and your loved ones and pets, as well as covering everything you own in black dust!
Sometimes it's not always a heating or air conditioning problem that you might be having. Our Brooklyn plumbers are available 24 hours a day, 7 days a week to detect a leak, repair your pipe, clean your pipes or unclog your drain. We are also often asked to fix a problem that a homeowner thought they could do themselves.
Given the popularity of many do it yourself shows on television, we understand that they make everything look so easy to do. Just don't forget that those shows are edited to fit into a thirty minute time slot or a thirty second commercial!
Our Brooklyn plumbers are used to helping homeowners with sewer line hookups, toilet installations or something as simple as installing a faucet. There is no plumbing job too big or small for us, we do it all!
Local Law 152
In effect as of January 1, 2020
Gas line inspections are due by the end of this year in districts 1, 3, and 10 of all boroughs. All inspections must be done by a master plumber.
The Premier Emergency Plumbing Service For Brooklyn, Queens and Manhattan
Request A Call Back From Our Plumbers